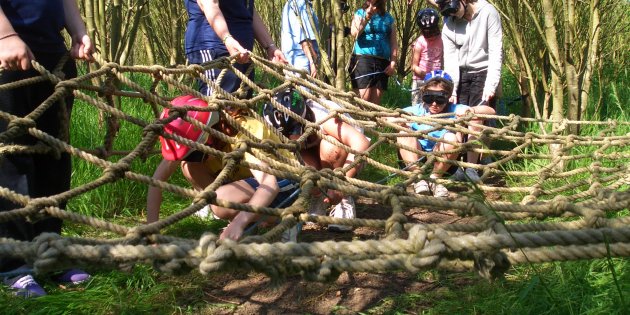 The aim of this activity is to increase communication skills. This is done by relaying accurate information to other team members. You can encourage team building by giving and receiving help to identify things whilst wearing a blindfold. This involves dependency and trust, increasing knowledge of senses other than sight and by having lots of fun.
The group is blindfolded and proceeds around a course with only a line for direction. It is up to the team to get each other safely though the course. This activity is hired with the Spiders Web and it is suggested that a group of 24 be split and 12 attempt the night line while the other 12 have a go at the Spiders Web.
Helmets and goggles are worn during the activity and the group leader should operate as a spotter at all times; he/she accompanies the group and identifies potential hazards. Suitable for all age groups. Colour coded helmets for each section. Self run activity. We suggest the wearing of old clothing and footwear during this activity. This cannot be run at the same time as archery is taking place.